Glow in the Dark
13.12.2019
Club Wakuum - Graz, AUT
Time
: 21:00
Venue
: Club Wakuum
City
: Graz, AUT
Address
: Griesgasse 25
Zip
: 8020
Contact Website
:
http://wakmusic.com/index.php/club-wakuum
Facebook
:
Event Page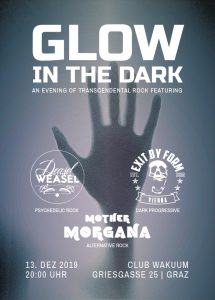 An evening of Transcendental Rock feat.
Exit by Form (Dark Progressive – Vienna)
Mother Morgana (Alternative Rock – Graz)
Guitar licks from behind the Orion Nebula. A voice and keyboard diving up in harmony from a boiling blue ocean. A bassline bouncing and jumping on the pillars of reality and a mighty beat that warps steadily through matter and time..
Deasel Weasel (Psychedelic Rock – Graz)
Nach dem Motto "music with no restrictions!" werden alle Sounds und Stile zitiert, gemischt und angeeingnet, sodass es schwierig ist das Werk zu kategorisieren. Mittlerweile bezeichnet man die Musik als das was sie ist: "easy going popmusic with experimental rock-tunes".