HAUNTED Album Präsentation
30.11.2019
Arena Beisl - Vienna, AUT
Time
: 20:00
Venue
: Arena Beisl
City
: Vienna, AUT
Address
: Baumgasse 80
Zip
: 1030
Phone
: 01 7983339
Contact Email
:
arena@arena.co.at
Contact Website
:
https://www.facebook.com/arenabeisl.erdberg
Facebook
:
Event Page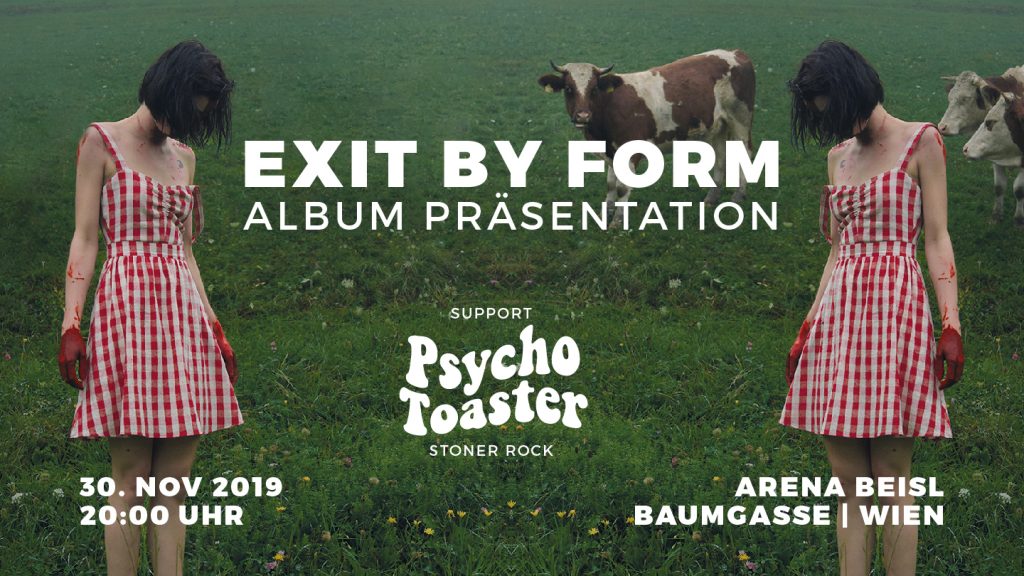 Exit by Form präsentieren an diesem Abend ihr neues Album "Haunted" im Arena Beisl.
Nach der kreativen Selbstfindung auf ihrer ersten LP "Proliferation" (2013) und der Auseinandersetzung mit dem Versagen der Menschlichkeit in Kriegszeiten auf "To My Peoples" (2016), nehmen es die Dark Prog Rocker diesmal mit den Geistern der Vergangenheit auf. Die Songs auf "Haunted" erzählen vom Streben nach einer besseren, utopischen Zukunft und von der Verweigerung, dieses Streben trotz fehlender Erfolgsaussicht aufzugeben.
Soundkräftige Unterstützung kommt vom Powertrio "Psycho Toaster", das uns mit feinstem Heavy Stoner Tock einheizen wird.
Psycho Toaster evolved from bandroom whispers to a jam- and practice-oriented band. Starting with founding-members Luky, Martin & Konstantin in 2013, the band was seen as a hideaway with stoner-rock influences. Kristof joined 2015 – since then the sound became heavier and new stuff had been written. First concerts in 2017, primarily selfwritten songs performed in eastern Austria (Oberwart, Vienna, …). Kristof left in the beginning of 2018 – Psycho Toaster is now a heavy Power-Trio. Currently working on new material and recordings.